In an in-depth interview, Matus Banovic of leading central European publisher, REFRESHER, describes how they approach and engage Gen Z. The key? Keep it simple, factually correct, interesting and focus on topics that are often ignored by other media.
With 2M users across the Czech Republic and Slovakia, REFRESHER is aimed at urban Gen Z city dwellers. Covering lifestyle, news, and social issues, it's grown to become of one of the most visited websites in the region, with an accompanying social media footprint. Its goal? 'To help build a modern generation with an open mind, not looking at the world as a binary of black and white.'
In this interview with their chief editor, Matus Banovic, we explore the specifics of how Gen Z consumes content and how REFRESHER is adapting its content to make it more attractive to their target demographic.
REFRESHER is the voice of the modern generation. What does your audience look like?
The majority of our readers are between 15 to 30 years old, which comes under Gen Z, but we address older generations, too. We focus on providing content for every age. In line with our values, we support freedom and tolerance, therefore we target mainly liberally-thinking readers living in bigger towns.
When we talk about Gen Z, what are the specifics in how they consume content?
GenZ wants access to events as soon as they happen. They want the content to be put across simply, interestingly and factually correct. The key to success is focusing on uncharted topics relevant to them. However, it's also true that Gen Z is more demanding and it certainly takes more effort to get their attention. Usually they're fine with their social media feed and it takes more effort to get them to our website.
What formats do Gen Z prefer to consume?
Our youngest audience is really into the videos on our YouTube channel and the short surveys on our website are also very popular – we are pioneers among the Slovak media outlets.
You use a subscription model for REFRESHER. Can you share your experience with Gen Z's willingness to pay for online content?
In my experience, Gen Z is more willing to pay for content when we offer a discount on subscriptions. For example, recently we launched a promotion of 0,33 EUR for the first week, which attracted new subscribers.
Gen Z usually converts on the topics which they don't find in other media, on the content that is unique, or presented in a unique way, such as interviews, inspirational stories, controversial topics, or answers to their questions (e.g. sex education). On the contrary, they don't convert on hard news topics.
We're always working to make it super easy for our users to buy subscriptions, really just with one click. For example, buying subscriptions with text messages. We fine tuned and simplified the process of logging in into the account, which FatChilli helped with.
What do you think about the common stereotypes about Gen Z, such as them being work-shy or that "young people don't search for news, news finds them"? Have you observed this in your own experience?
In my opinion, these hypotheses are quite wrong. I dare to say that young people, specifically those aged 15-25, consume content voluntarily and often consume news content to a greater extent than any other generation before them. Obviously, this is because of the access to the internet and social networks.
Our experience and data show that young audiences are interested in news content if it's delivered in a comprehensible way, explaining how it affects them.
How do you adjust your content to make it more attractive to Gen Z?
We use simpler and more casual headlines, and we always use "you" in the headlines. It is important to find a good balance; we don't want to sound like a tabloid or clickbait news, but we also want to make it catchy and easily understandable. We don't usually write about topics like foreign politics; instead, we focus on topics that have a direct influence on the lives of Gen Z.
But you do have REFRESHER News, which informs about current events both from Slovakia and foreign affairs.
Yes, but also here our strategy is to have headlines attractive to Gen Z, more casual, focused on what impact the event has on their lives. The language is the key. We often write about the news which everyone writes about, but we also need to find news topics, which are unique or look at them from new perspectives to make it more engaging for Gen Z.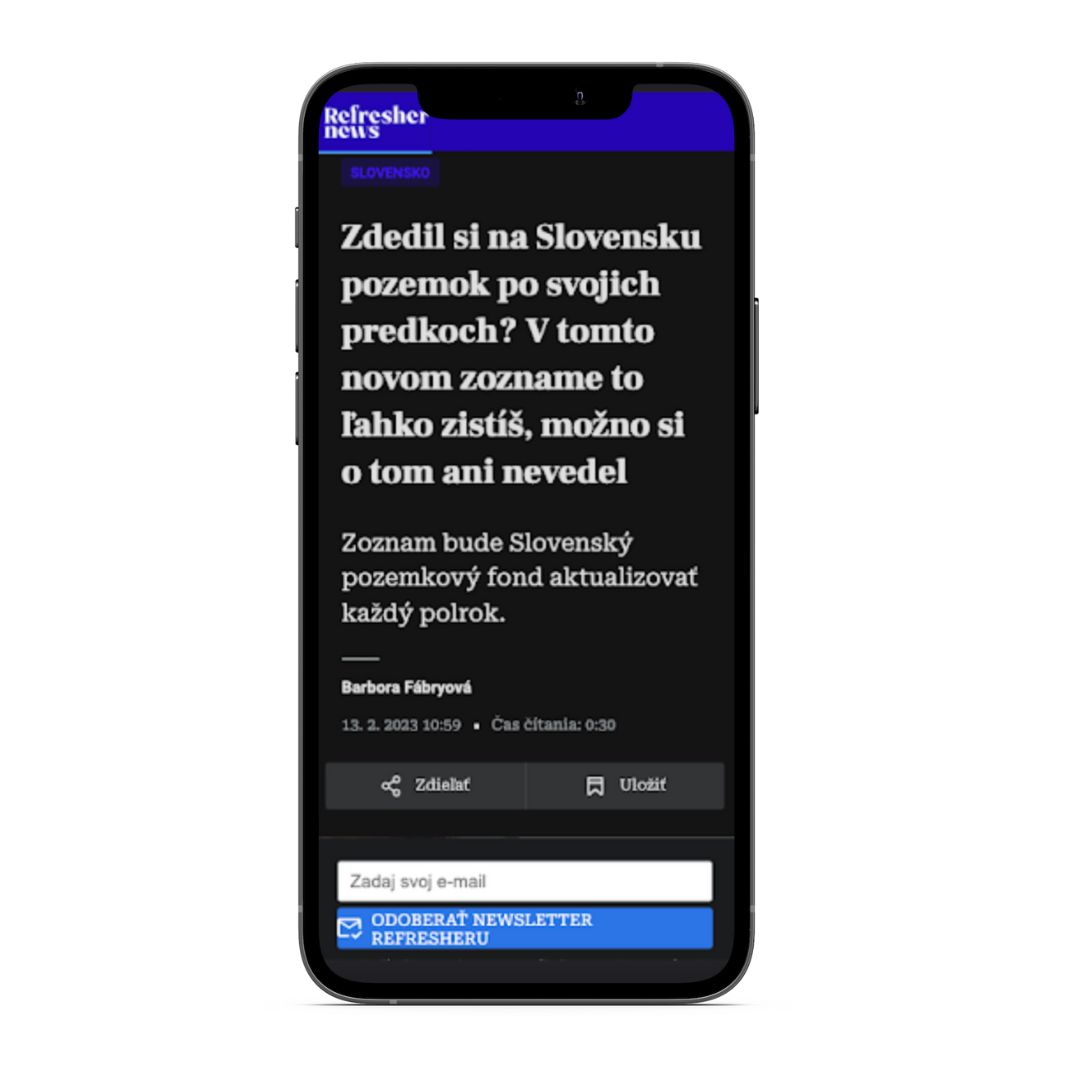 The role of Social media is obviously very important when engaging Gen Z. Which platforms do you use and how do you create content for each of them?
We use all platforms and all of the types of content that they offer. We have YouTube, Facebook, Instagram, TikTok and LinkedIn. REFRESHER News has a separate channel from REFRESHER on Instagram, YouTube and TikTok. The target audience is different on each platform and we adjust our content and its form accordingly.
Can you give some examples of that?
We use different headlines for the same news. For example, in the article informing about the possibility of postponing the tax declaration, this is how we used headlines:
Website: This trick will save you 600 euros, you have the last 10 days to use it. Check if you can use it
Google Search: EXTRA MONEY: This tax trick will save you 600 euros
Do any of the platforms require more effort than the other ones?
We put the most focus on our Instagram channel, as it requires a different presentation of the topics, a more visual one. There we sell articles through a series of stories and we use all the possibilities of Instagram to raise as much engagement as possible.
As per our Brand Engagement team's experience, the most effective approach on REFRESHER News' TikTok channel involves displaying the article's print screen in the background and the editor's face in the foreground. The editor then retells the article "from Gen Z to Gen Z" – using vocabulary tailored to Gen Z. Although this activity does not drive much traffic to our website, it is crucial for boosting our brand awareness.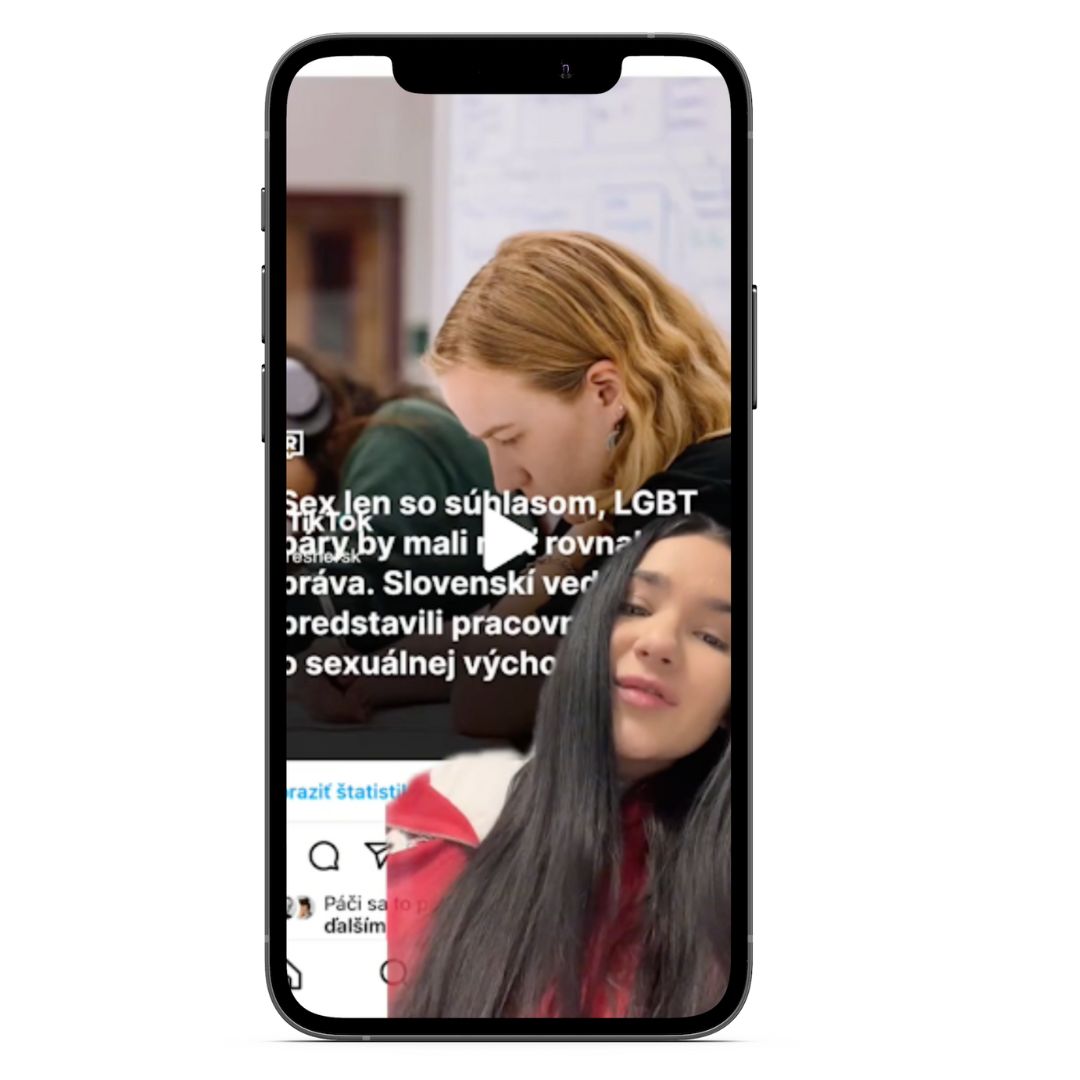 Can you describe the role of the Brand Engagement team? What criteria should such a team member fulfill?
We have a whole team of 5 people working only on Instagram and TikTok posts. Knowledge of social media and their changing algorithms is crucial, I'd say they need to live with social media, follow the trends, know what is hot in TikTok right now, follow foreign media outlets and how they offer content on social media. They don't need to have a journalistic background or education, but critical thinking is inevitable, they must understand the information they're passing on. It's like a waiter in a restaurant.
How costly is it to create content specifically for social media compared to traditional formats?
Our editorial team creates 99% of the content, so our BET team serves as a support to the topics already being written about. Their role is to make the content more appealing and of course, we want readers to visit our website in the end. Socials serve as a "teaser" to generate interest. Moreover, we have a separate video team, but a significant portion of their job is creating content for paid partnerships.
Obviously, social media brings in a significant portion of the overall traffic. What does it look like in your newsroom when, for example, Facebook is down for a few hours, as it happened several months ago?
Everything is on fire and we panic! Not long ago, we were pretty dependent on Facebook, and we experienced a significant drop in Facebook traffic. There were times when it used to bring us 50% of the overall traffic.
We are trying to eliminate our dependency on Facebook as much as we can.
How are you doing that?
We are planning to make some improvements in our mobile app, and also we are implementing REMP (Reader Engagement and Monetization Platform) to detach ourselves from the 3rd-party platforms. When we talk about the REFRESHER app, we optimize it to suit the needs of Gen Z, in particular to make it look more like a social media feed. We want our primary target audience to consume our content primarily in-app, rather than on Facebook.
How do you encourage readers to come to the app and the website?
Through push notifications and newsletters. Push notifications work equally well both on engaging Gen Z and older generations. When it comes to email marketing, we know that it works well and we're looking forward to trying it with REMP. Right now our newsletters are now automated, but we have plans to work on our newsletter strategy and make our newsletters more personalized and editorial, rather than an automatically generated list of recent articles.
What do you think of using influencers for content promotion? Does it even go hand-in-hand with news content?
Influencers who are popular among Gen Z help to create a cool image of REFRESHER, but such collaborations are mostly seen on social media. We use them primarily for promoting our advertising partners, and this is a mutually beneficial partnership. However, our editorial content is produced independently and freely, and this needs to be separated.
In my perspective, having a journalist who is also followed by many people (such as Monika Tódová from Dennik N) sharing their content on Instagram can benefit your brand. And if an influencer finds an interesting topic in our content and shares it, we benefit from it naturally.
How old is REFRESHER's team?
Our editorial team is between the ages of 20 to 40. New young and also older people regularly come and go, it's a natural process. The brand engagement team is Gen Z explicitly, to be able to 'translate' the content into Gen Z language.
Do you believe that it is possible to create content engaging for Gen Z if your newsroom is a bit older and less tech-savvy? What would you recommend to such a media outlet, where to start?
I notice that it's already happening, many newsrooms have a young intern from Gen Z, who, for example, interviews editors or makes live videos on Instagram. I would highly recommend hiring a person from Gen Z, who will be the 'translator' into the language of young people. This is not directly related to conversions but is very essential for building brand awareness on social media.
Re-published with kind permission of FatChilli, the one-stop shop for publishers. This article was originally published here.