For decades media companies and publishers relied on advertising as their primary means of revenue. As the internet became more popular, most publishers initially assumed they could apply a similar advertising model to monetise their digital properties.

This model, however, has been disrupted because of two players: Google and Facebook. With close to 70% these companies have taken up such a huge part of total digital ad spending that publishers have needed to think outside the box in order to generate revenue.

The good news is that some publishers have already found great success in counteracting the fluctuations of digital advertising. Needless to say, these companies are travelling along the digital subscription route.

In this article, I want to highlight some of the most promising paywall models today. By analysing these eight case studies, you may discover an enticing digital subscription model for your own media business.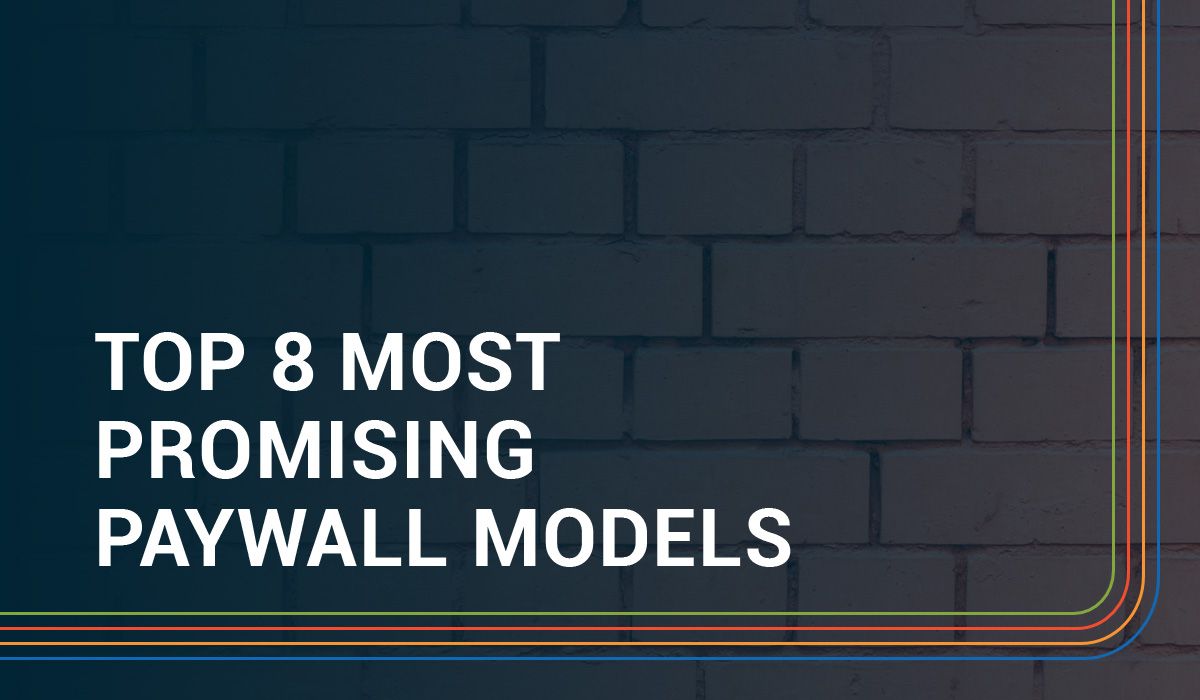 1 The Boston Globe's focus on digital subscriptions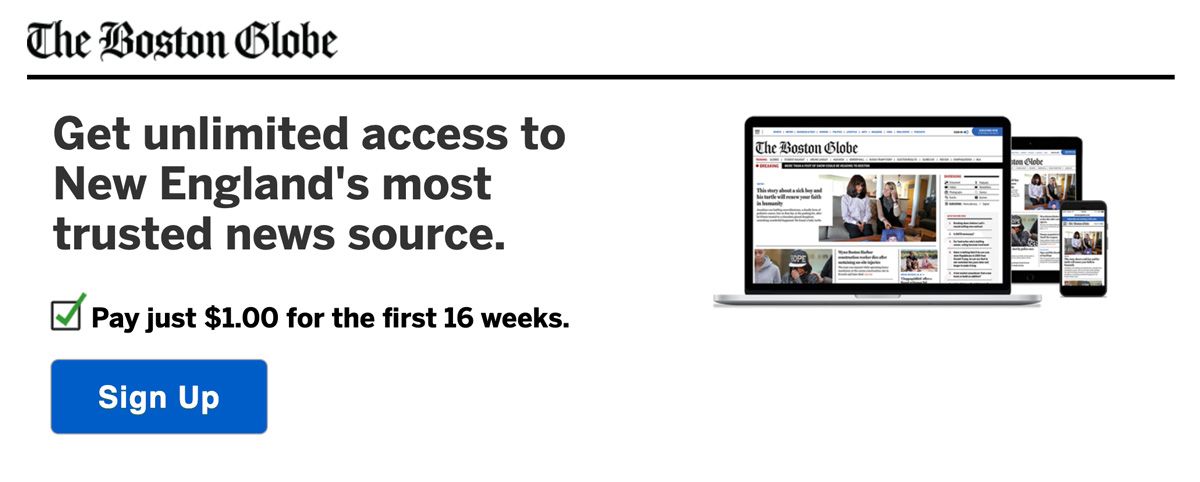 To start, I want to examine the Boston Globe, as it is the first local newspaper to have more digital subscribers than print subscribers. In the first quarter of 2019, digital subscriptions rose from 108,000 to 112,000.

Yes, there are many other newspapers that have seen promising results by instituting different types of paywalls. But they're all considered national newspapers.

So how did the Boston Globe achieve this feat?

Simple. The Boston Globe made growing digital subscribers its number one objective.

It attributes its success to experiments with the metered model of the online paywall. First, the Boston Globe, among other things, eliminated a loophole that allowed users to bypass its paywall by browsing in incognito mode. And while some Boston Globe readers expressed their displeasure with some of these initiatives on Reddit, the Globe stood firm.

The paper also reduced the number of free articles within a 45-day window from five to two and extended its mobile offerings to digital subscribers. Combined with the fact that the Globe broke some major news during these changes, the newspaper has been extremely satisfied with its progress.
2 Wired's experiments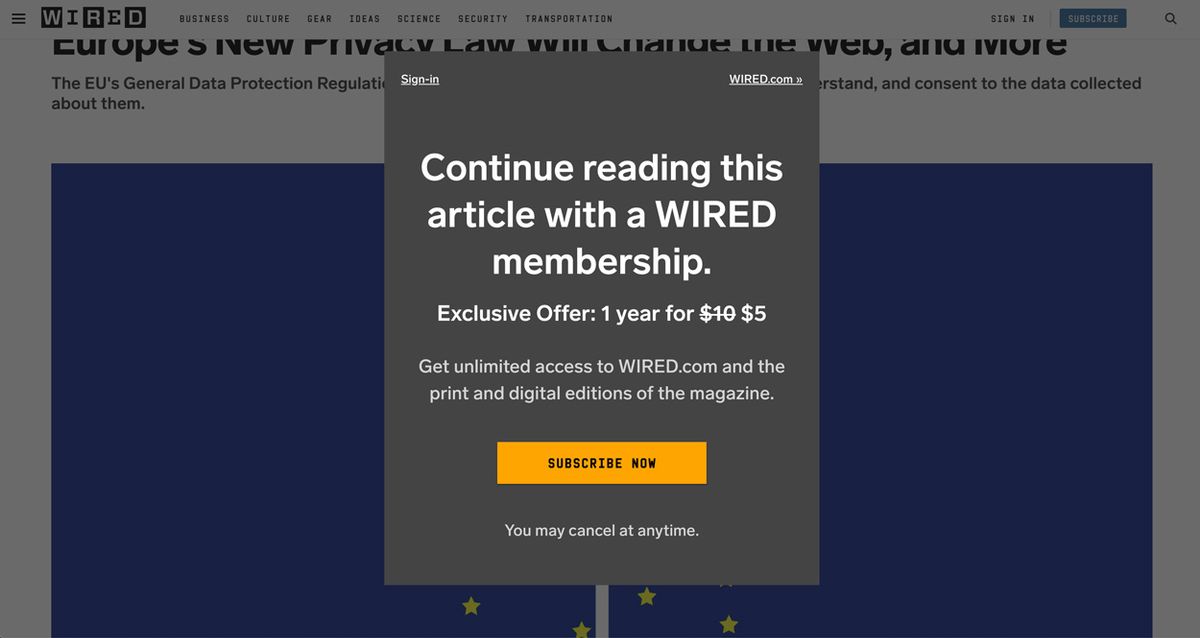 Wired magazine has also found promising results when leveraging a digital subscription model. After introducing its paywall, the magazine racked up a 300% increase in digital subscribers.

It has found success by launching many little experiments to see what worked. For example, when Wired began with its paywall experiment, it mostly invested in three new kinds of content pieces. Those pieces were long-form stories, idea essays, and issue guides. It found that some of these stories went a long way in generating subscriptions like Wired's feature story on Facebook's Hellish Two Years. However, things like buying guides were also some of the strongest contributors. The bottom line, according to Wired, is that customers will subscribe after reading stories that have been done well.

Another key contributor to the subscriber increase were all kinds of niche newsletters. According to Wired a visitor who reaches their website via search is 1/19th as likely to subscribe as one who comes in from a newsletter, a reader coming in from Facebook is 1/12th, and a reader coming in from Twitter is 1/6th.

The magazine also focused a significant amount of time on its order form. They found out that adding an option for Amazon Pay helped a lot along with the words "place order" instead of "start my subscription".

As for failed experiments, Wired tried to entice subscribers by offering a YubiKey. They also offered subscribers a gift to cover their laptop cameras. These experiments, however, did not result in meaningful growth at all. To sum up, Wired invested in experiments to optimise its paywall. While some didn't work, others helped supercharge the company's digital subscription growth.
3 Dagbladet's personalised paywalls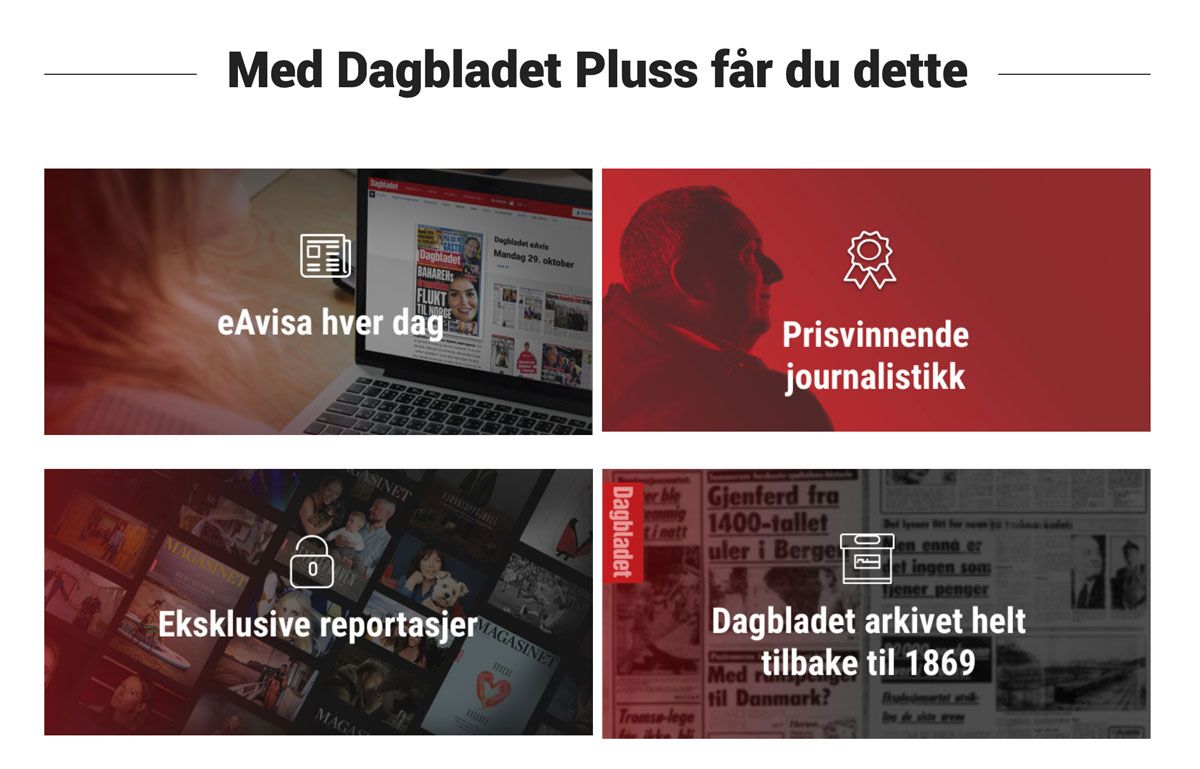 Dagbladet is a large Norwegian newspaper that has leveraged the power of personalised paywalls in driving its digital revenue.

The newspaper has around 85,000 digital subscribers. Over six months, the newspaper built its own algorithm to show its visitors personalised content on several different parts of its website.

The algorithm takes into account certain behaviours like whether readers have read posts more than once and whether they have read similar articles. It also tracks factors like dwell time to serve content that is more relevant to visitors. Through this algorithm, Dagbladet can not only serve its readers with more relevant content, but it can optimise for the broadest range of revenue capabilities.

Its audience has responded in kind, with the newspaper claiming that it has grown subscriptions over 100%. That said, Dagbladet still overwhelmingly obtains its revenue from advertising (90%, in fact). The magazine and its parent company Aller Media want to make this ratio more even.

While it is unclear whether Dagbladet's impressive digital subscription growth can continue, it shows the power and potential of personalised paywalls.
4 Handelsblatt's extremely tough paywall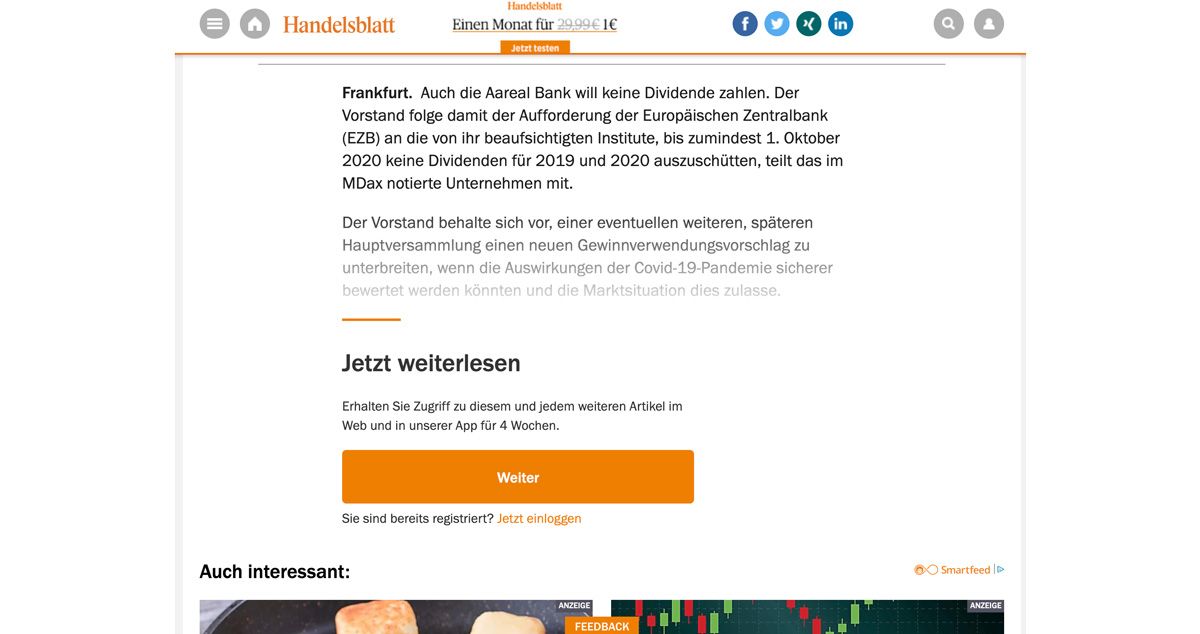 Handelsblatt, a prominent German business paper, has found success with an extremely strict paywall. In Spring 2018, the paper shifted to a subscription-first strategy. Today, its website contains only a few articles that are available without a subscription. The rest are firmly behind the paywall. On its mobile app, all of its content is paid.

By the time that Handelsblatt launched its paywall, the company began optimising it with several A/B tests. The ultimate goal was not only to improve customer experience, but to improve their conversion rate. Along with this, the company launched a new mobile marketing effort and created individual customer journeys with a huge focus on email to increase engagement with its products.

The hard work paid off. At the conclusion of 2018, Handelsblatt was able to increase sales via its paywall by more than 25%. And in its app, a staggering 58% of customers became paying subscribers after a free trial period.
5 The Financial Times was ahead of the paywall curve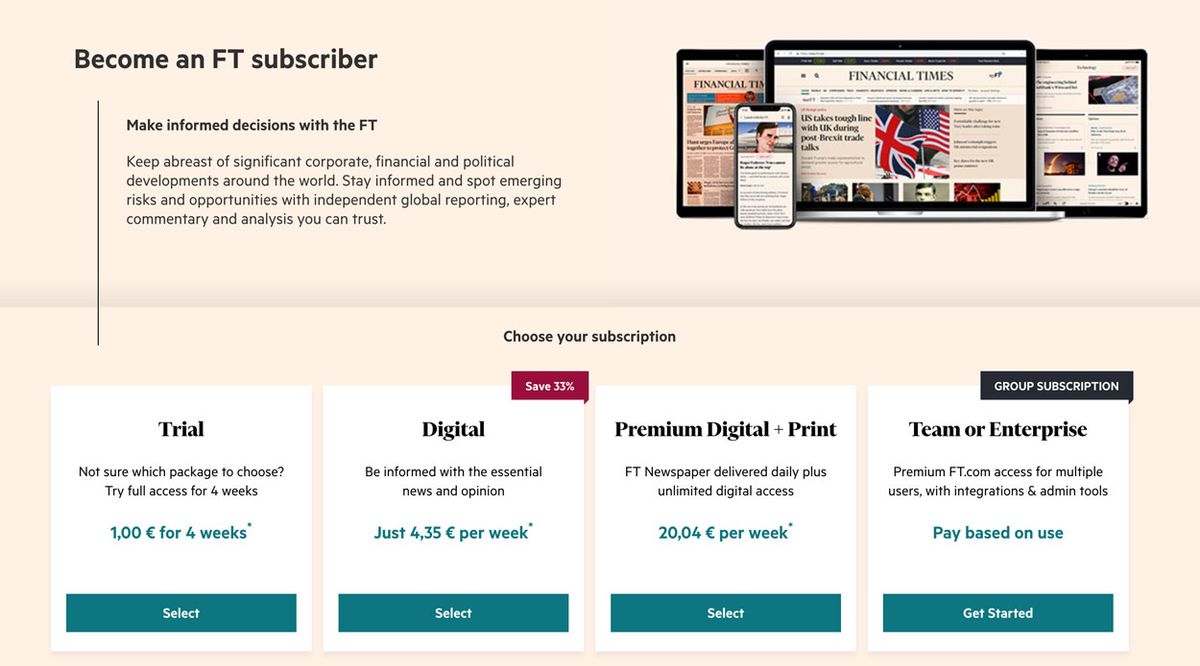 The Financial Times, one of the most followed and respected newspapers in the world, was one of the first publications to embrace a paywall. It already started leveraging online subscriptions in 2002 and hasn't looked back.

Last year, the paper eclipsed one million subscribers, which is an all-time record. Even better for the FT is the fact that about 75% are digital subscribers and around 70% live outside the U.K.

So how has The Financial Times become so successful?

It has leveraged a highly data-driven approach. As you can imagine, over the years, the FT has gathered an immense amount of data on its readers.

It uses this data to shape both its coverage and digital product strategies. Through its infamous proprietary engagement score, their journalists can better understand which stories work best and why, which can shape future coverage and satisfy both current and potential subscribers.

Ultimately, The Financial Times delivers outstanding information and customers are willing to pay for it — even if it has been behind a paywall for nearly two decades.
6 Bild and the power of video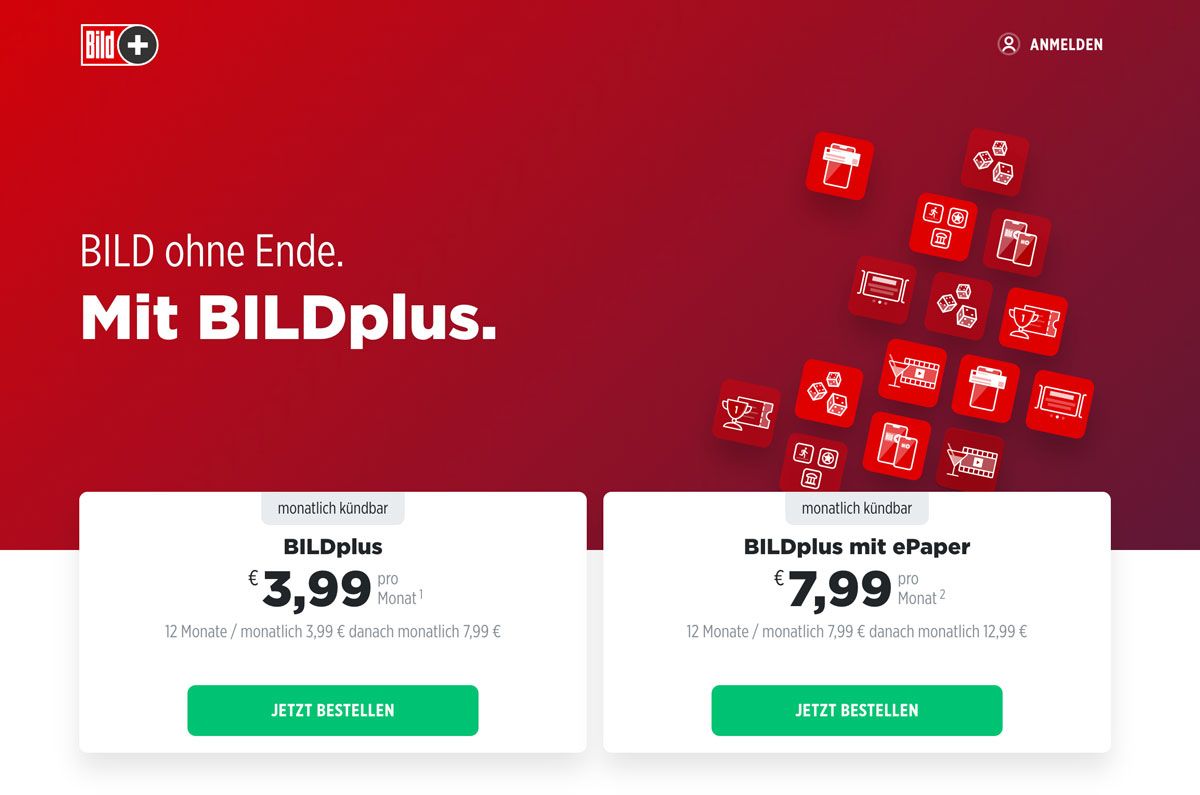 Bild, a German tabloid newspaper owned by our customer Axel Springer, excels in leveraging the power of video to drive subscriptions.

While the company offers one-minute long videos that are available to everyone, it puts its more in-depth video stories behind the Bild Plus paywall.

Why does Bild do it?

Essentially, because they found that eight out of the top ten highest-converting articles are either video documentaries or contain video of some form. However, Bild Plus does not only include videos generated by the Bild team, but also other videos that are licensed from production companies.

Bild Plus launched in 2013. Since then, it has tabulated around 400,000 subscribers who pay up tp €13 per month. Examples for videos included on the Bild Plus platform are a quick documentary on former tennis champion Boris Becker and Instagram influencer Ina Aogo's marriage to football player Dennis Aogo.

Ultimately, with video becoming more essential in the world of content creation, video paywalls can be terrific ways for media companies to generate significant revenue.
7 The Athletic's ad-free, subscription-only model

The Athletic is a rapidly growing sports news subscription service that leverages an ad-free, subscription-only model. As of July 2019, the startup has obtained over 500,000 subscribers. However, it expects to double that number by year's end.

What makes the news website so unique is its ad-free, online-only presence for local sports news. From the beginning, the company adopted a paywall model. The founders didn't want the reader to encounter distracting pop-ups or autoplay videos. Instead, the reader gets a non-distracting, pleasurable experience when reading about his or her favourite team.

But just because it gained traction through subscriptions doesn't mean that The Athletic hasn't experimented with advertising. Specifically, it recently launched a daily podcast called The Lead that is published entirely outside its paywall. While the podcast will feature ads, the ultimate goal, according to the company, is to find potential subscribers.
8 Esquire's vertical subscription model

Finally, Esquire is a notable publication in that it has adopted a vertical subscription model. Specifically, it has offered a micro-membership model around one of its authors named Charles Pierce.

Pierce has contributed to Esquire since 1997 and readers can pay $17.99 per year to read his content. Subscribers to this micro-membership subscription gain access to all of his stories, rather than only being able to read three stories per month.

Esquire decided to build this micro-membership model around Pierce because of his popularity. According to the company, 60,000 people per day were reading his content. In about one year since the micro-membership model began, Esquire has been able to obtain 10,000 new subscribers.
Conclusion
These eight publications offer significant evidence that a subscriber-based business model can work for your media company. If you are open to make some changes to your culture, and dedicate time to launching some interesting experiments, you will likely see real traction with this model.

However, if you are nervous to make these changes, the simple fact is that the media industry as a whole is moving toward a paywall-based subscription model. While the specifics will surely vary across each organisation, this model will likely provide a more stable revenue base compared to an advertising-first model. 

And better yet, through paywalls you can create even closer relationships with your readers, which inspires brand loyalty and future revenue.
Timo Lamour,
Marketing Manager at SPRYLAB
About: SPRYLAB was founded in 2007 by Stephan Heck and Benjamin Kolb. The company now employs more than 50 people and supports publishers in creating and distributing digital content. Clients include major media houses such as Axel Springer, TI Media, News Corp, Bauer Media and Aller Media. Find out more here.
This article was first published on purplepublish.com