If I had to use one word to describe the situation with publishers and ad revenue as of late, it would be "tumultuous".
The ad revenue game was already facing some serious headwinds before The Great Upheaval. Google was looking to kill the third-party cookie, brand safety concerns ran rampant, and the sheer amount of technology and middlemen literally left a third of digital ad spend unaccounted for.
With that as the backdrop, along came the health crisis, which created a situation where unprecedented traffic numbers were going unmonetized due to keyword blocks and a dramatic slash in marketing budgets across the board. Add to that the civil unrest of the last month, which pushed brands to temporarily go dark out of respect and solidarity.
To say that the environment is less than ideal would be the understatement of the century.
With all that being said, when looking at the big picture, there is, surprisingly, a recovery happening. Let's dive in.
The Show Must Go On
Some real talk: Somewhere over the last month or two a choice has been made to reopen at all costs. Globally, there seems to be a consensus-building that the world can no longer afford to keep the economy shuttered. It's not my place to argue for or against this trend. This is just what's happening.
Health impact aside, this "show must go on" mentality is most definitely starting to be felt when it comes to ad revenue. People are trying to return to some semblance of normalcy and stability. That return includes getting out of the house, eating at restaurants, shopping outside more, and so on.
In our particular case, this means that marketing decisions are no longer made minute-by-minute. There is a collective push to return to business-as-usual, even if the usual is currently unusual.
This means that companies have come back to planning. Brands are figuring out how to adjust their strategy for the new normal, and are starting to spend again. This also means that publishers optimizing for ad revenue have also started planning, evaluating, and restarting their spend. See for yourself: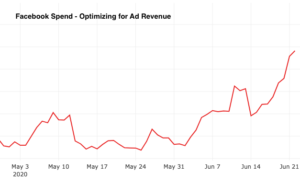 A Semblance of Normalcy
Once the advertising landscape cratered in March, we saw that a lot of the norms we were used to weren't happening anymore.
For example, in normal times, we could generally expect CPCs to be low at the beginning of the month, and then slowly go up toward the end of the month. In parallel to CPCs going up gradually, the on-site revenue (RPM) would also go up.
This didn't happen in March, April, or May. Here are May's stats for reference: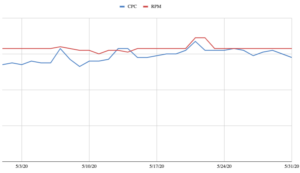 However, this seems to be changing in June, and things are starting to look much better. Here's what's been happening in June so far: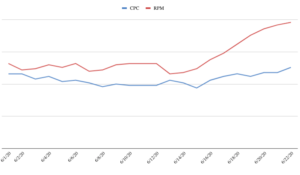 All indications are that CPC and RPM are finally starting to behave predictably again. And even better news – RPMs are ramping up quicker than CPCs, thereby increasing profitability.
User habits are returning to normal again as well. For example, mobile browsing is back on the rise, after slumping in March and April.
Looking Ahead
We're hearing positive signals across the board from publishers. They're expecting July to hold steady and ad revenue to increase over August and September. The consensus is that brands have been holding on to budget from Q2 and plan on spending it in Q3 and Q4. 
Other trends of note:
Video CPMs seem to be relatively high-yield over the last month or so.
Health-related content is doing incredibly well, which isn't surprising.
The publishers who are generating the most consistent profit currently are those with direct-sold inventory. Beefing up sales teams to create these deals seems to be paying off for them.
So is ad revenue making a comeback? Probably, and publishers should examine what they can do to make the most of it. That being said, there's really only one way to crisis-proof publishers, and that is diversification.
Relying on one source of revenue is just not tenable. If you haven't yet looked at new revenue channels, this stability is the perfect opportunity to do so. So let's get to work.
It's also worth noting that being back to normal patterns mean that July CPCs will be starting low, with a huge opportunity to scale, so it's a good time to invest in paid traffic.
Inbar Yagur
Keywee