Adblockers cost online publishers billions of dollars of lost revenue each year, and it's become a critical first step for every publisher that monetizes their traffic through ads to know what percent of their audience is blocking ads. The average active block rate in the US is 28%, and Statista reports 33% of women and 49% of men in the U.S. used an adblocker in 2020. If nearly a third of your site visitors are using an adblocker, that equates to a significant missed opportunity to generate much needed revenue.

Many visitors have valid reasons and concerns about managing their overall ad experience. Building a sustainable, growing relationship with visitors that mitigates adblock losses requires an exchange of value and two-way communication with your adblock visitors. In order to start that engagement and revenue recovery a publisher first needs to be able to detect every adblocker across dozens of proprietary solutions and browser combinations.

How do Adblockers Work?
When a browser running an adblocker loads a page it identifies scripts in your code used to serve, target, or track ads; it then stops them from functioning so the ads never appear. Most adblockers are set to block all ads on a page. Browser adblockers, such as Chrome's, blocks some ads by default, and users can add more blocking functions via the settings.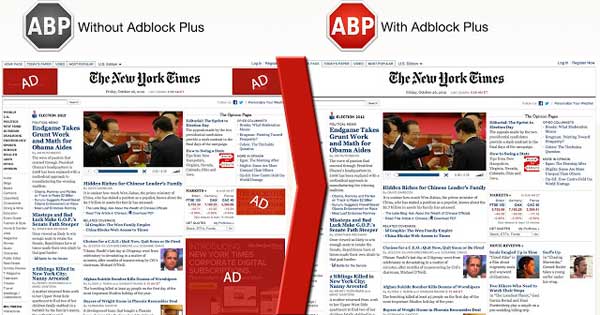 Some of the more popular adblockers include Adblock, Adblock Plus, uBlock, and Brave. The primary reason a user chooses to use an adblocker is frustration with the quantity and intrusiveness of ads. Other reasons include avoiding the bandwidth used to download ads, and concerns about privacy and tracking.
Some adblockers aren't even aware they have an adblocker running, and present a prime opportunity for publishers to engage them to whitelist the website. Surveys of adblockers find that "68% did not personally install or turn on their adblocking software. 19% didn't know who installed it, and 10% didn't even know they had adblocking software running."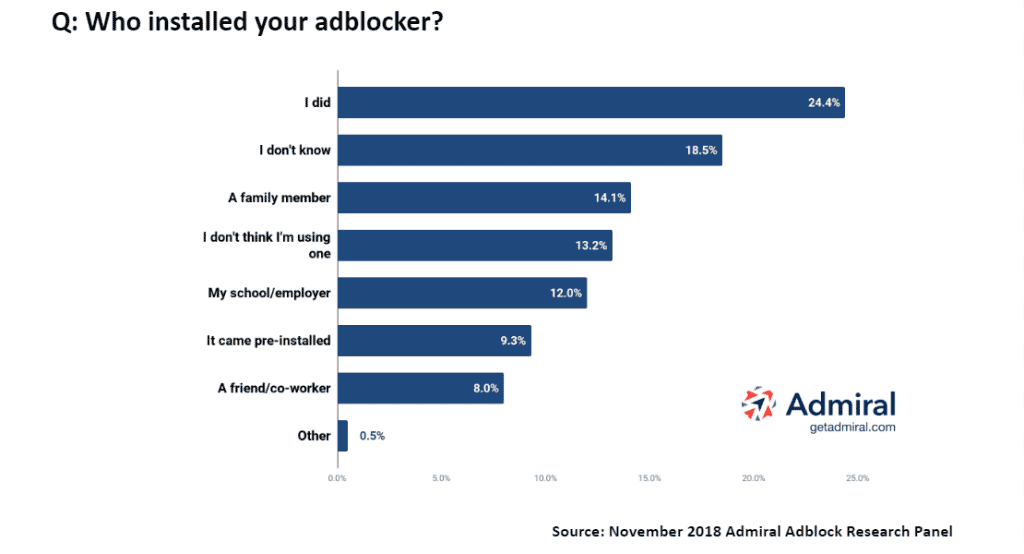 There are proven paths to engage these visitors and keep their concerns in mind as well as the realities of business revenue sustainability, but first a publisher needs an effective adblock detection solution.
How to Detect Adblockers
Adblock detection is most commonly achieved by providing code that acts as "bait" to adblocking scripts. The bait is a bit of web code that falsely appears to be a container for an ad unit. When the adblock script seeks to block the bait, it modifies the page rendering, and this change can be identified as the work of an adblocker. Publishers can then launch a variety of actions to engage the visitor or mitigate the adblock losses.
The bait is typically a hidden <div> that contains a file known to be a target of adblockers, such as "ads.js". Adblockers tactics are commonly posted and shared across the web, so adblock detection can use those same lists of targets to create the bait. Once adblock is detected, publishers can engage the visitor to:
Ask them to whitelist the website or turn off their adblocker
Offer them an ad-free paid subscription
Offer a temporary ad-free experience in exchange for email signup or social follow
Block access to the site's content
Make a voluntary donation to help fund quality content
To avoid posting current code that adblockers could exploit, here's a sample of outdated 2015 code that adblockers reverse engineered and built a counter for. Developers can see how they set bait, then check to see if the bait was acted on by the adblocker.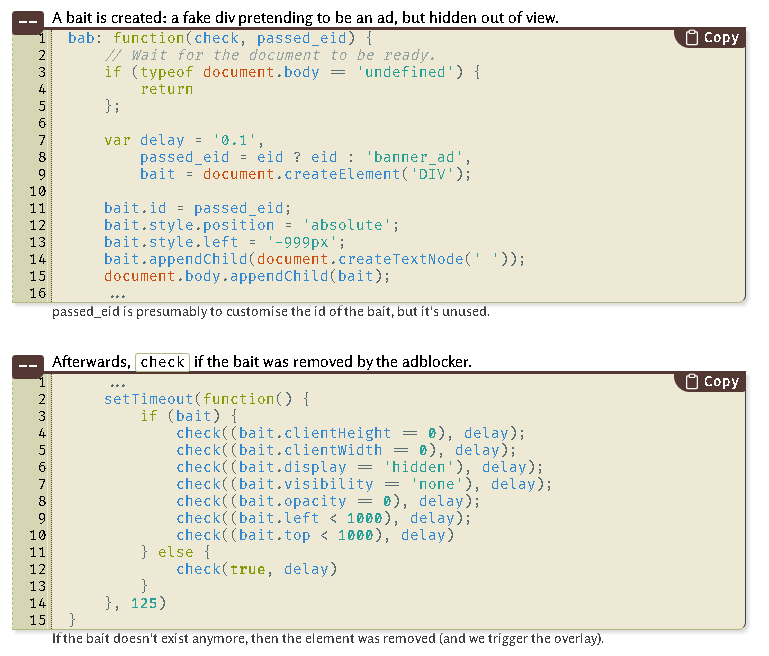 Like the ad business, there is no limit to the creative offers a publisher can present to adblockers. These engagements can provide permission based value exchanges to visitors, while guiding the relationship towards a mutually beneficial path for both parties. To do so, publishers need a good adblock detection approach, visitor engagement system, and metrics to track progress.
There are a variety of adblock detection options open for publishers, from Open Source scripts on github, to industry developed scripts from Interactive Advertising Bureau (IAB) or even from the  Google AdSense team. If ad revenue is critical to a publisher, they likely want to research professional adblock detection and recovery solutions. There is an ongoing  cat & mouse challenge to adblock and detection, with constant modifications across dozens of adblocking apps and browser extensions. It's best left for the experts to handle the critical step of detection for you.
Working with a professional solution will help provide the best experience possible for your users. At a minimum, all publishers should have an adblock detection and mitigation strategy in place for immediate revenue recovery. Here's a list of adblock recovery build vs buy considerations.

Adblock Detection Analytics
A good adblock solution should include dashboards to easily track the ad block rate by device, potential revenue loss, and more. Open source DIY solutions can set up Google Analytics event tracking, though both the detection scripts and GA must be manually updated amidst constant tactic changes by adblock vendors.
Here is an example of Admiral's adblock analytics dashboards: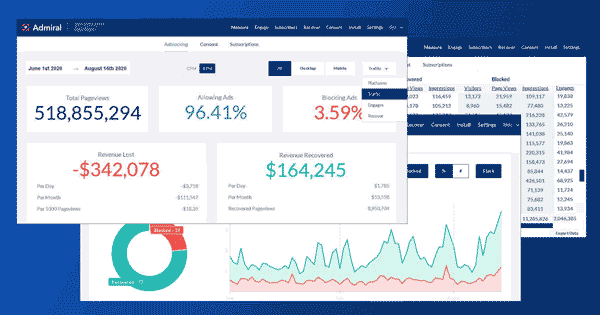 How Can Publishers Recover Adblock Revenue?
Publishers have many options to recover adblock revenue, and some have even combined strategies to recover over 100% of their lost revenue. Paths forward can include paid subscriptions, whitelisting, ad reinsertion, value exchanges, donation campaigns, ad-lite offers, and more. Adblock user surveys indicate that 37% said they would be willing to sign up for an email newsletter, 27% said they would be willing to download a publisher app, and critically, 24% said they would be willing to pay for a monthly subscription.
Adblock users have legitimate concerns, yet 60% say they strongly agree that publishers have the right to earn revenue to pay for the content they create and publish. Once adblockers are detected, publishers should have a strategy to engage, educate, and experiment.
Engage – Open a dialogue with your adblock visitors. Find out if they want to support your content by whitelisting the site, or if they are adamant about not viewing any ads, see if they would like an ad-free paid subscription. If they just don't want annoying ads, offer them a chance to view the site with an ad-lite experience where all ads are vetted and conform to strict guidelines. When Encyclopaedia Britannica first launched their Admiral engage, rather than block access to adblockers, they simply asked for donations to support journalism, and were surprised at the positive response. Being transparent, honest, and authentic in your engage copy can earn the respect and cooperation of adblockers that regularly enjoy your content.

Educate – For adblockers that were concerned about spammy annoying ads, since they can no longer see the ads on your site, let them know that the ad experience has changed. If the site is a Certified Better Ads serving site, let users know what that means. Let them know that the  visitor experience is important to you, and you've made changes which suggest they can whitelist the site for continued access and support for the content.

Experiment – There are unlimited options in how you engage adblock users.  The screen location can be tested, the creative size is flexible, the layout and creative can be on brand and friendly. Experiment with the engage copy and offers. Use the engage to test price points  and bundles for paid subscriptions, or use the engage to grow email newsletter signups to diversify your revenue options.
Michael Yeon
VP Marketing, Admiral
By Admiral
Admiral helps digital publishers grow visitor relationships via adblock recovery, per-site subscriptions, multi-site subscriptions, email subscriptions, social subscriptions, privacy consent and more, powered by Admiral's one-tag, one-vendor, one visitor experience Visitor Relationship Management (VRM) platform.